Mogobe Trim Tray with Detachable 150 Micron Screen, Made of Stainless Steel, 19.5*13.5 inches
Regular price
$69.90 USD
Sale price
$68.90 USD
Unit price
per
Sale
Sold out
LARGER SIZE WITH HIGH WALLS: Our trim Tray size is 19.5*13.5*4 inches. More space can trim more plants and ensure that your plants do not fall out of the tray by accident, it improves your efficiency and save time. And a non-slip bottom is easy to use even on a slippery table or countertops.
SOLID AND LAST A LONG TIME: Different from the plastic Trim Trays on the market, our trays are made of Stainless Steel, which can withstand washing and a lot of seasons(remove the Non-slip mat before you place it in dishwasher). Durable materials ensure that you can use them for a long time without the frequent purchase of a new tray.
REPLACEABLE 150-MICRON MESH SCREEN: Meshes of different sizes can be useful for multi-stage sifting. We believe 150 microns are the optimal option: it does not pass garbage, and you do not lose larger trichomes. Also, we stretch the screen tight enough to avoid wavy or loosing issues, which happened in most trays on the market. There is hardly any gap between the mesh and the tray, so the material won't fall through or trap.
ABUNDANT AND PRACTICAL ACCESSORIES: We provide a wealth of accessories including 2 trimming scissors, 1 brush, 1 collection shovel, 1 magnifying glass card, 1 special screwdriver, 1 utility knife, and 1 cleaning cloth.
Return Police

Mogobe provides 30 days refund & 365 days replacement.

Return Policy:

Mogobe will offer a full refund on all orders within 30 days you receive from our site. We will provide a prepaid return label if the issue is related to us. We don't mind the conditions different from your return item as long as the damage is reasonable, including the original package missing or parts missing. You will receive a refund within 3 business days upon us receiving the returned product. There will be no "restocking fee" charge. 


Warranty Policy: 

Mogobe offers 365 days replacement warranty. You will be responsible for paying the shipping costs. For those customers who exceed 365 days replacement window, we are happy to help by providing guidance and parts you may need. We will charge the components for a minimal cost. We try our best to build a trusted brand; we will serve you within or without the above "policy." 
Q&A

Q: Does Mogobe trim tray durable?
A: Mogobe trim tray with Durable Material that Withstands Regular Washing & More Seasons of Crops.
1. Mogobe trim tray made of stainless steel has very high hardness and durability. Compared with most plastic trim trays on the market, the stainless steel trim tray has a better hand feeling and a better user experience.
2. Due to the characteristics of stainless steel, our trim tray does not have to worry about rust, and you can wash them with water after use, which makes cleaning easier.
3. It is an undeniable fact that trim trays are a significant investment that will make the process of trim straightforward and convenient. These trays are useful for many reasons.
4. Firstly, they provide a platform for trim the plant. Secondly, they reduce wastage as they collect the pollen and loose pollen grains that can fall while cutting the plant. Thirdly, the trays can also prevent spillage and make the process of trim less messy.
5. Depending on the size of cells, trim trays can be used for different purposes. Our trays with 150-micron meshes. Such equipment is used to collect pollen and trichomes during bud trim to make pollen later. You do not have to come up with additional DIY devices for this.

Q: Does Mogobe trim tray has Non-slip bottom?
A:
Yes. Mogobe trim tray with Non-Slip Bottom that Eliminates any Waste.
1. Non-slip mat surface reduces the risk of spills, the almost whole bottom is no-slip. The soft and comfortable non-slip mat, in addition to being able to effectively prevent slip, can also be more comfortable when working with the trim tray on the thigh.
2. Since you spend a lot of time cropping weed, it is important not to overload your back and arms; otherwise, attention will decrease, and the quality of processing will become worse due to fatigue. Our High-quality trim trays will remove an unnecessary load from your body and make the whole process as convenient as possible.

Q: Why Choose Mogobe Trim Tray?
A:
1. Stainless Steel Trim Bin, Heavy-Duty and Durable. This is one of the strongest trim trays currently on the market. This is an amazing design, I believe that when you get this stainless steel trim tray, you will be surprised by its design and fall in love with this stainless steel trim tray.
2. Larger Size: 20.4*14.1*4.7 inches. More space can trim more plants, improve your efficiency and save time. Most of the trim trays on the market are relatively low in height, which is not conducive to trim. Our tray is bigger in size, in addition to having a larger capacity, it will also make your operation more convenient.
3. Replaceable 150 Micron Screen, collects even the finest trichomes, and stores your dry your sift safety in the bottom harvest bin. There is almost no gap between the screen and the bin to ensure that precious pollen is not wasted. The detachable structure will also make cleaning more effective and convenient.

Q: How to clean Mogobe Trim Tray?
A:
1. Cleaning a trim tray just wipe a bottom tray with paper towels or a soft cloth soaked in medical alcohol. Repeat the process several times until the fabric is clean, then rinse the container with clean water and leave it to dry.
2. An upper pan requires more thorough treatment because of the integrated mesh. It is recommended to use alcohol and a nylon brush for this. Spread alcohol on the entire surface of the screen (you can spray it or just wipe it with a dampened towel) and then rub it with a brush until it is clean. After that, the upper pan can be washed with soapy water. Just be careful that there are no soap pieces left on the mesh.
3. An alternative way to clean mesh screens. Place one of them in the freezer for a quarter of an hour and clean the frozen plant particles with a brush. It'll really speed up the process
Share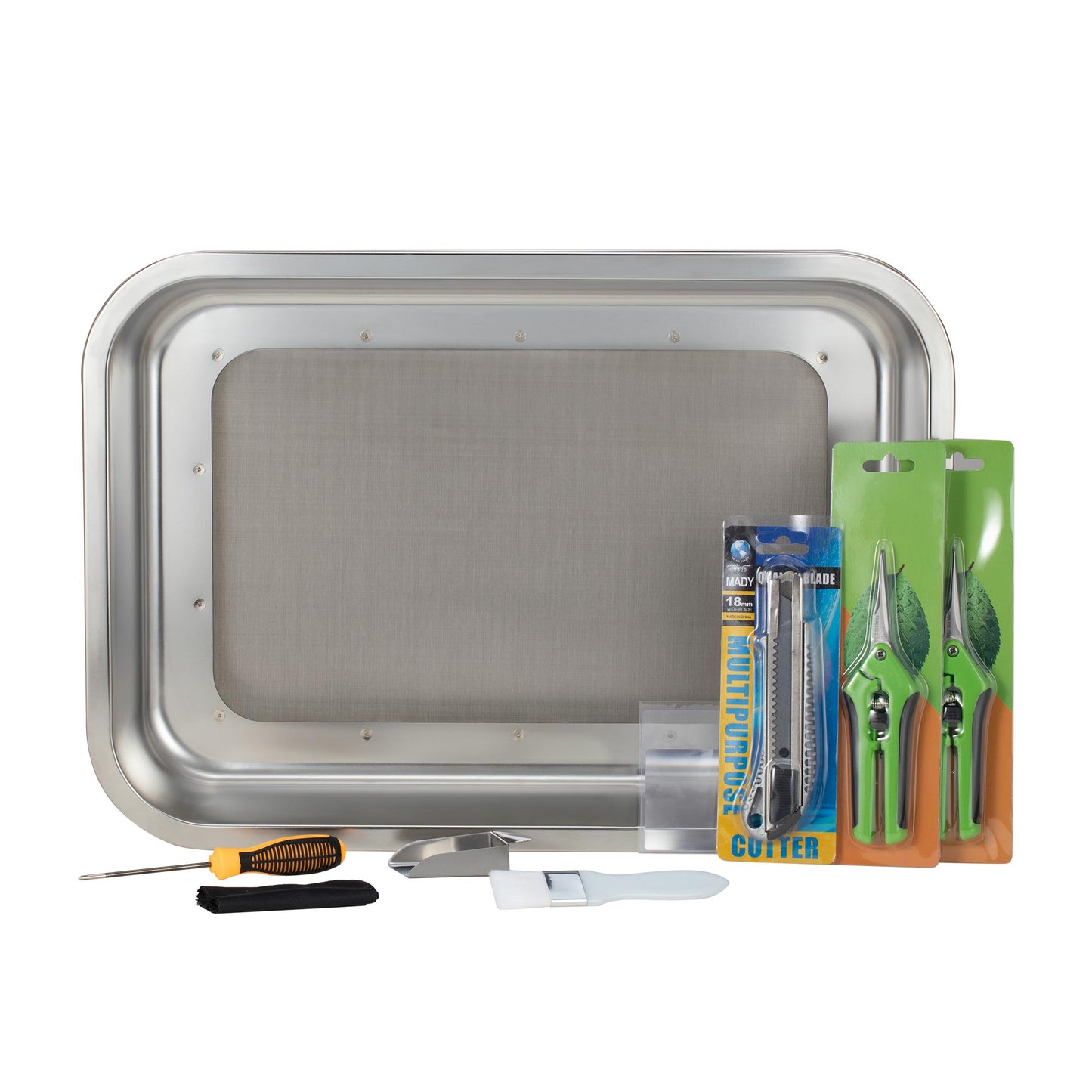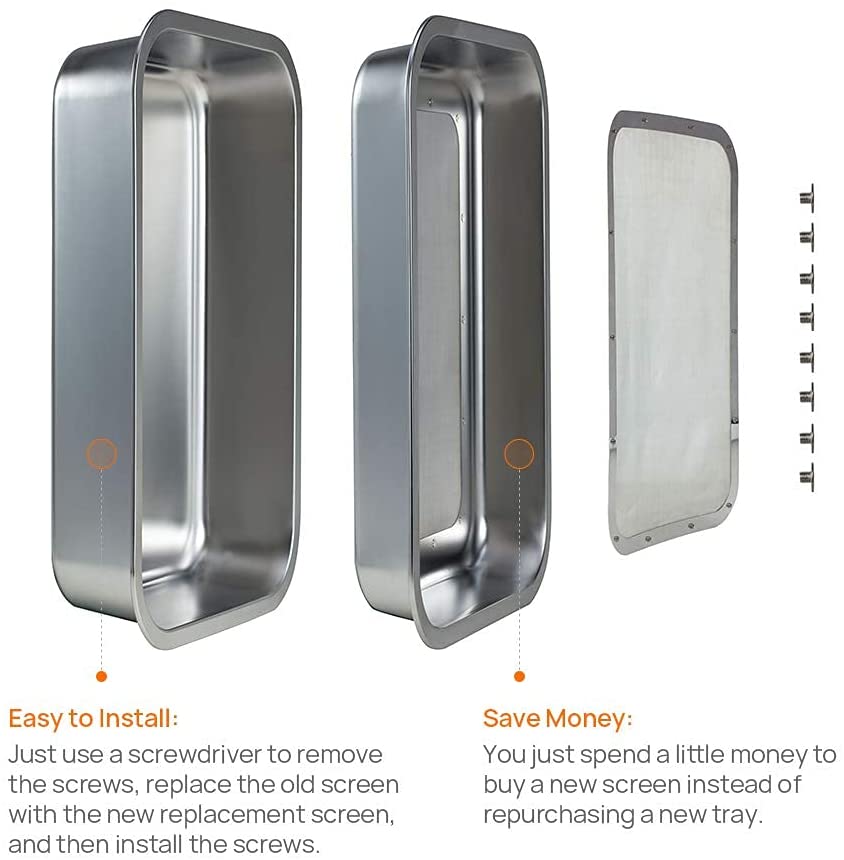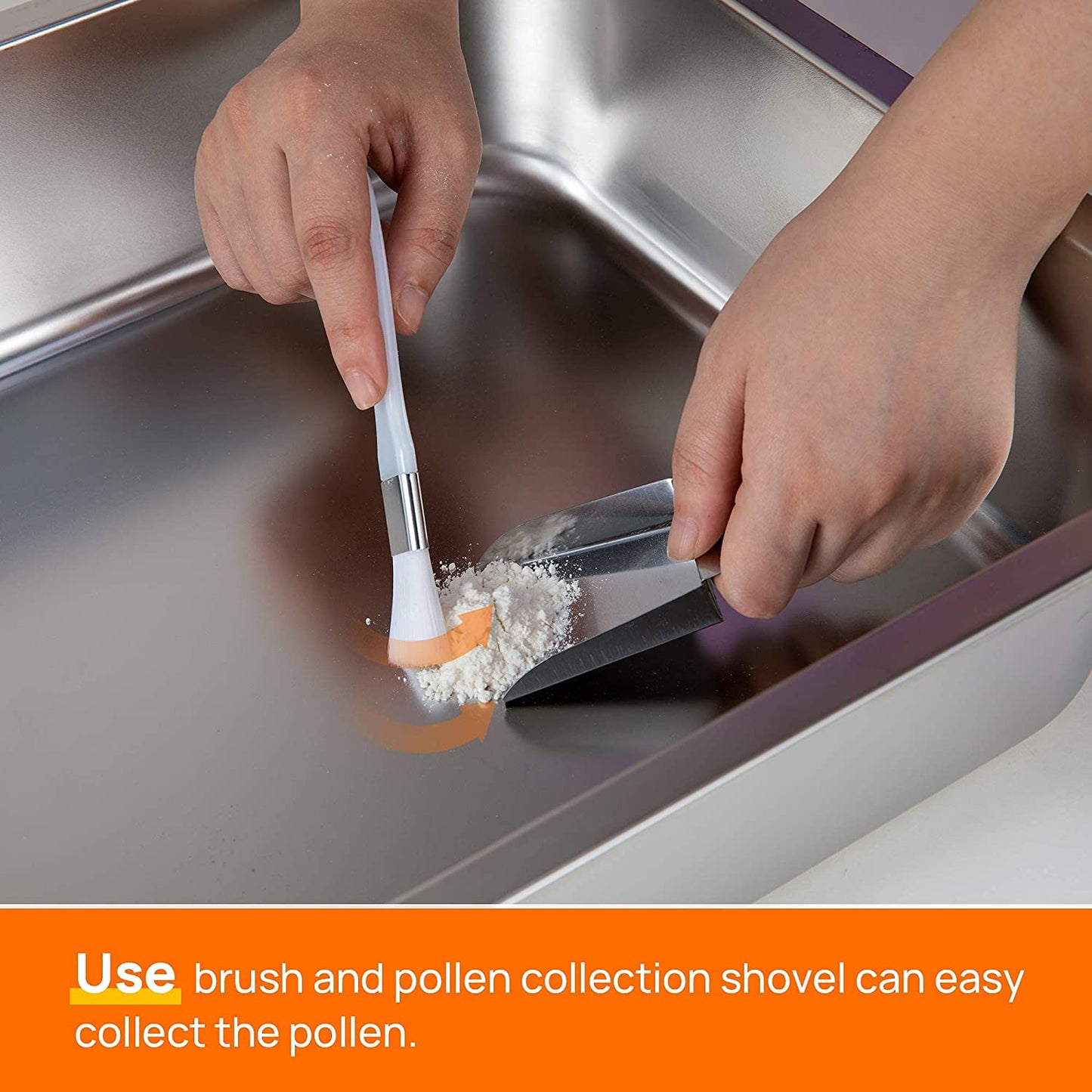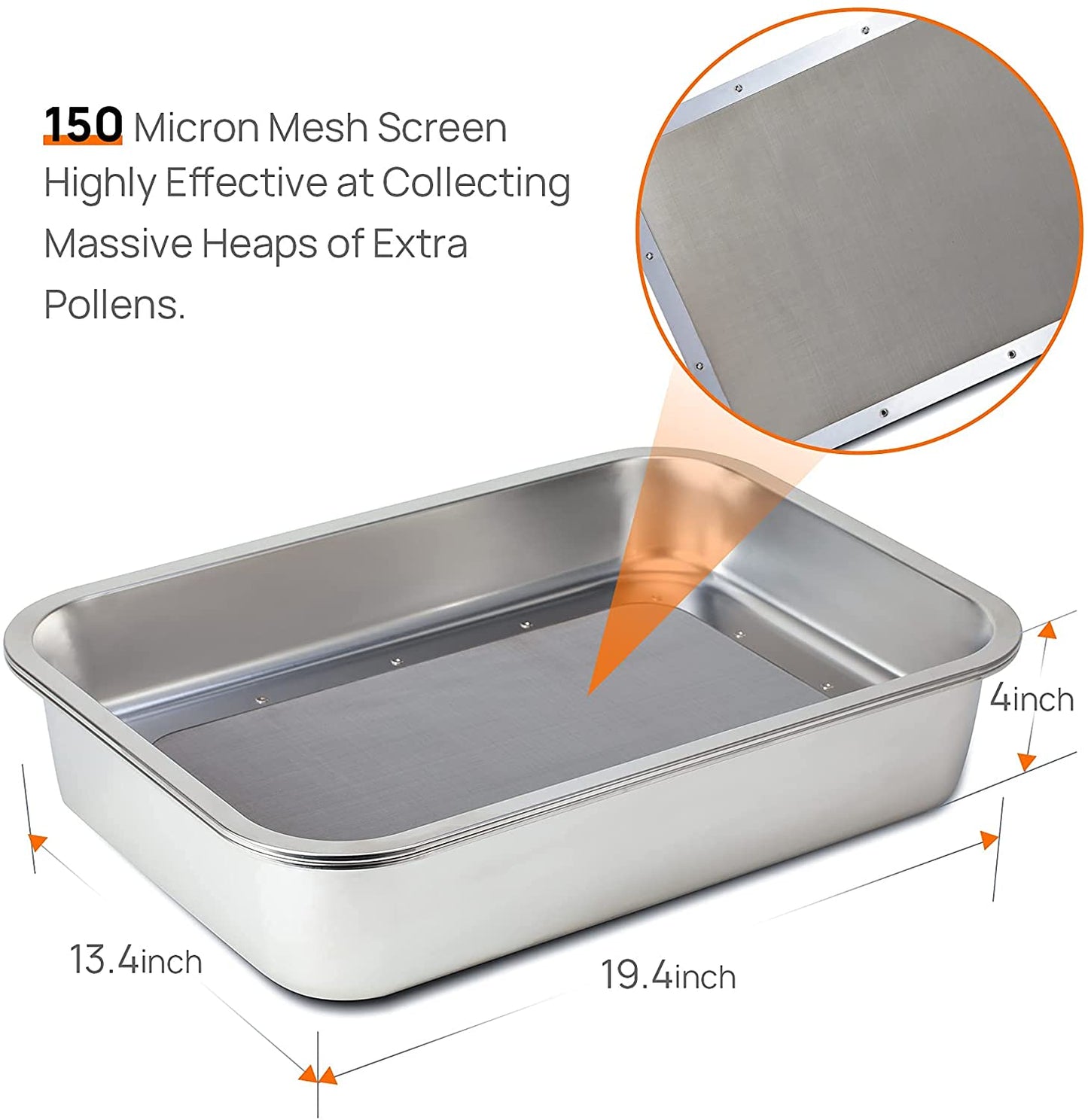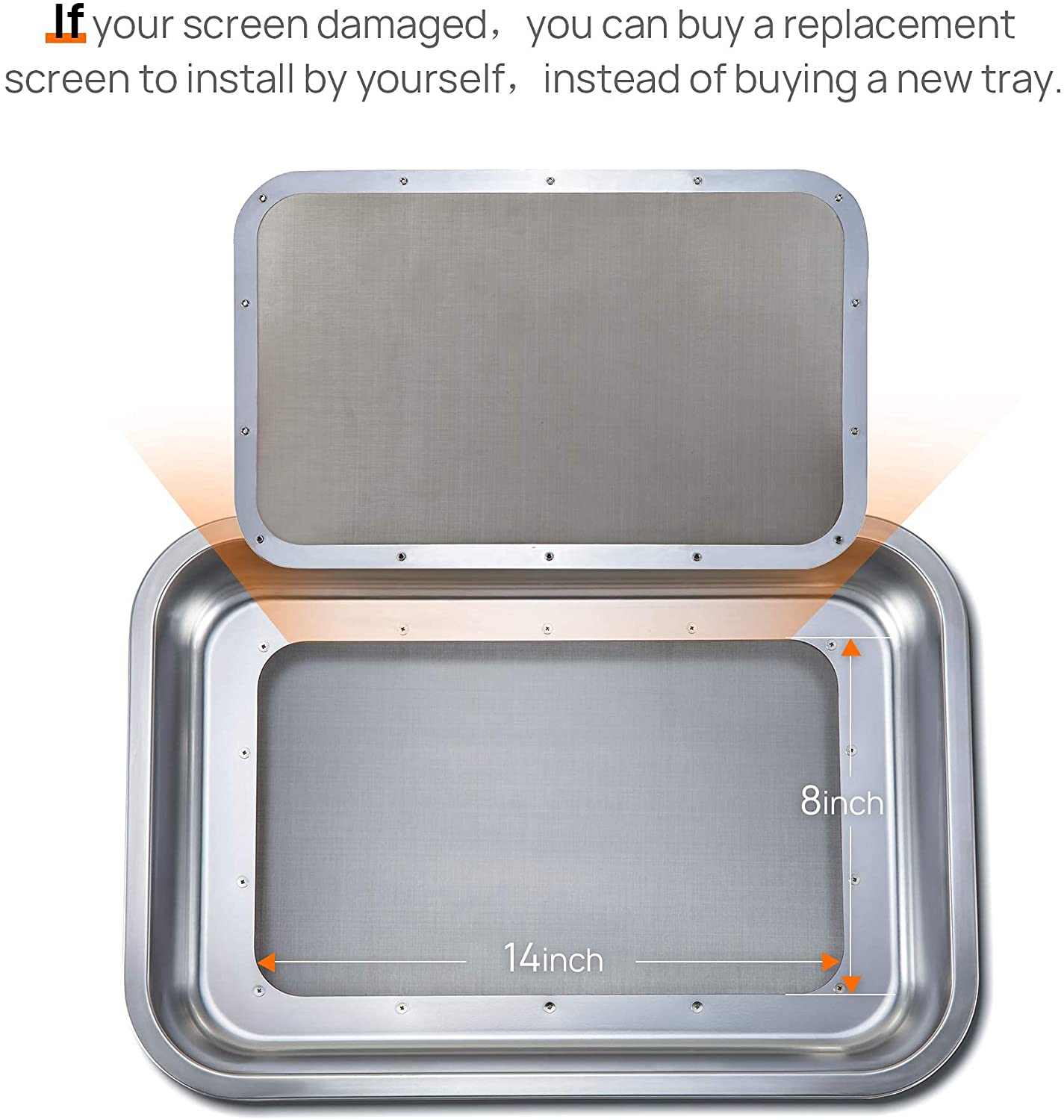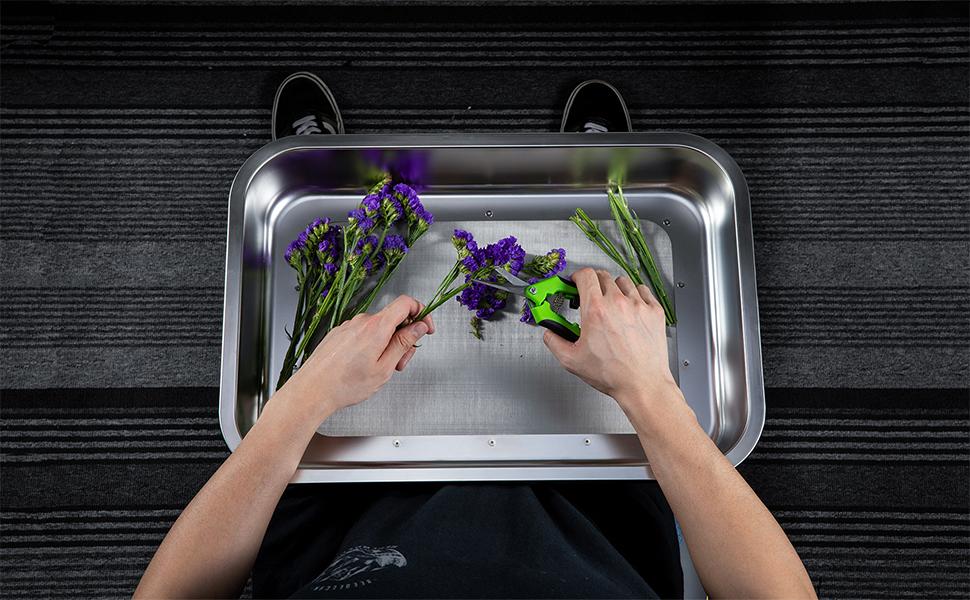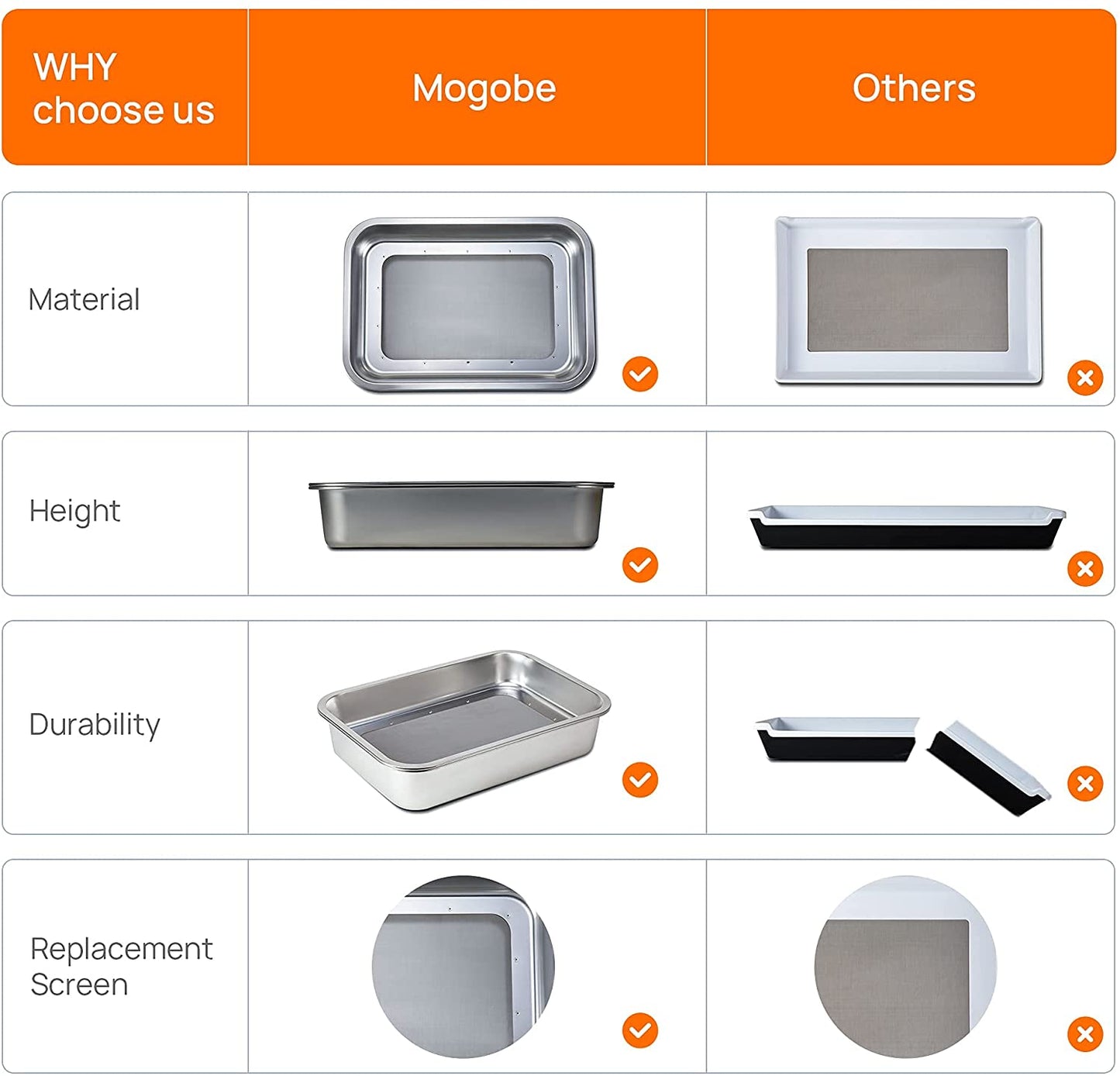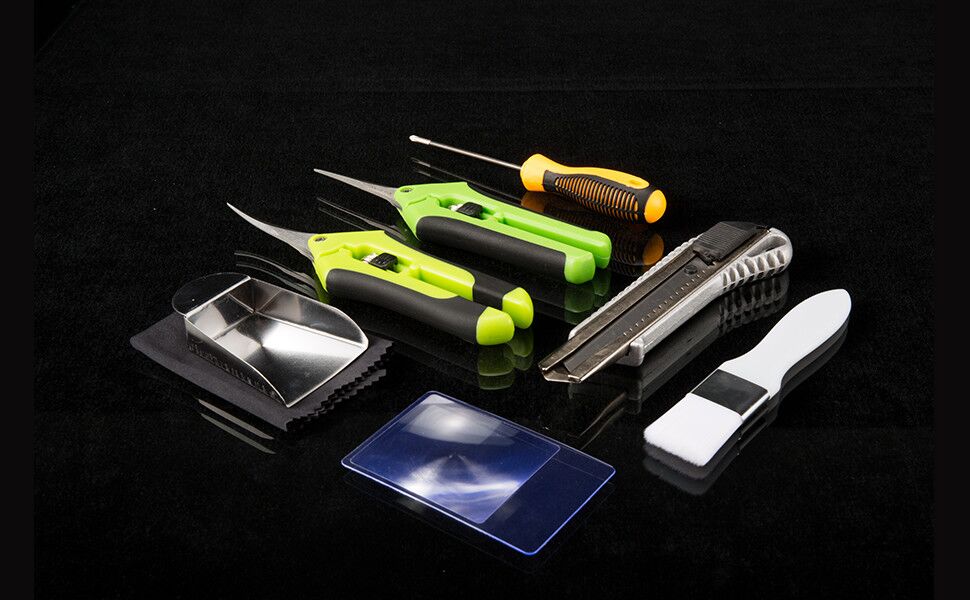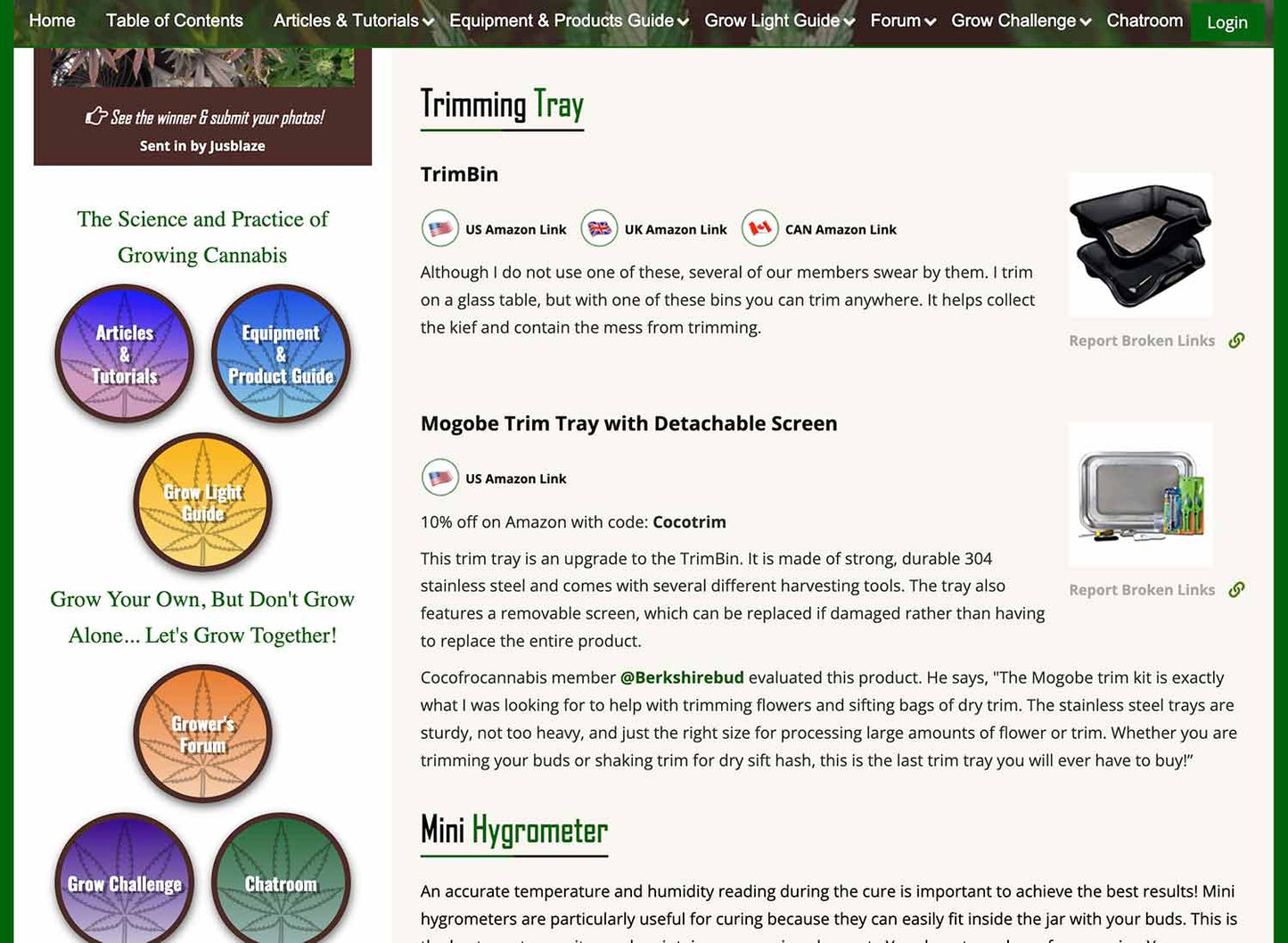 Trim Trays
My favorite trim tray by far. I greatly prefer this to the plastic style. The depth of this tray is wonderful.
Outstanding!
Ten times better than the plastic one this replaced. The plastic one scratched easily and conducted static electricity. You were constantly chaseing "pollen" everywhere. Another plus is the non-slip bottom. I would recommend using a credit card to do the gathering, then use the scoop to do the collecting. After multiple runs with the scoop the edge started getting sticky and left skippers. A quick wipe with rubbing alcohol remedied the situation. Same with the snips, they have a very tight clearance and need wiped periodically. Totally satisfied!
2 thumbs up
Love the tray. It's easy-to-use and heavy duty. Perfect for resin collection. Might there be a cover option in the future?
Much better than expected
Arrived quickly and is well made.
Glad I got this trim tray!
Was planning on a plastic version until I saw this one, very pleased with it. It is sturdy, easy to clean and the replacement screen is less expensive to replace if required, plus the bonus scissors and tools made it an easy decision. Good job Mogobe from a happy customer.