Mogobe 2 Ton Rosin Press Machine PRESS101, 2.5*2.5'' Heated Plates with PID Temperature Control
Regular price
$154.90 USD
Regular price
$169.90 USD
Sale price
$154.90 USD
Unit price
per
Sale
Sold out
Notes: 1) Sell as stand-alone Press101. Package not including decarb capsule, pre-press, parchment paper, filter bag, etc. 2) Mogobe Press101 must be screwed to a table or a board before it can be used. Two kinds of screws are included in the package. 3) Avoid touching the hot plates after you start heating. 4) Please use the 250MM T-handle bar we provide, not replace it with a longer one. This way, it will hardly exceed ≈2.5 Ton force. Not placing excessive wear on the press, using it for a long time.
2.5X2.5'' Heated Plates: Press101 features 2.5*2.5 inches dual heated plates made of 6061 aluminum. It can provide you with up to 3400PSI force. To calculate: Take the total force and divide it by the contact area size of the rosin pressing bag. Let's take a 2*4'' filter bag as an example: 2-Ton Press≈4444 lbs; bottom circumference of a 2*4'' bag≈4, so its radius≈0.64, contact area size 0.64*0.64*3.14≈1.29. 4444Ibs Force divided by contact area 1.29, equal to 3445 PSI.
Heavy Duty & Small Size: The structure of Press101 is made of stainless steel. We attach two steel holders in every press for you to mount on a table or on a board. You can easily press up to 2 tons by spinning the T-handle. The structure size of Press101 is no more than 9 inches high, and 8 inches wide, very small, but just due to the compact structure, making the stainless structure handle much press force more easily.
PID(Proportional, Integral, and Derivative) Temperature Control: The heated plates' temperature is up to 120° Celsius (248° Fahrenheit). simply press the button and get to your preferred temp number - better flavor or better yield. Press101 takes 5-6 minutes to reach 82° Celsius (180° Fahrenheit), and it can consistently provide stable temperature around the target temperature number ±2° Celsius.
PTC(Positive temperature coefficient) heaters: we are using 2 PTC heaters in the heated plates. PTC heaters are self-regulating, and cannot overheat, so it is safe and results in fewer repairs and lower costs of energy. The primary material for the PTC heating element is barium titanate ceramics which itself is a thermistor ceramic, Therefore, it also has the advantages of corrosion resistance and long service life (up to 80,000 hours).
Structural flexibility: The Press101 is built to be flexible and durable, which means we can send you parts quickly for you to repair if your rosin press machine falls from the second floor by accident, for example.  It also means you can tear down each part of it by yourself using Allen wrenches, except for the PID temperature controller. 
Return Police

Mogobe provides 30 days refund & 365 days replacement.

Return Policy:

Mogobe will offer a full refund on all orders within 30 days you receive from our site. We will provide a prepaid return label if the issue is related to us. We don't mind the conditions different from your return item as long as the damage is reasonable, including the original package missing or parts missing. You will receive a refund within 3 business days upon us receiving the returned product. There will be no "restocking fee" charge. 


Warranty Policy: 

Mogobe offers 365 days replacement warranty. You will be responsible for paying the shipping costs. For those customers who exceed 365 days replacement window, we are happy to help by providing guidance and parts you may need. We will charge the components for a minimal cost. We try our best to build a trusted brand; we will serve you within or without the above "policy." 
Q&A

Q: How many materials can you heat press at one time?
A: We recommend 2-7 grams on raw materials, welcome to load more if it is finer material.

Q: What are the essentials before heat pressing?
A: Materials that need an extraction, Parchment paper, Micron bags, cooling plate, concentrator carving tool.

Q: What is Heat Press Machine?
A: It uses a pair of heated plates to press such as sesame, and Lavender. It squished out considerably more concentration and was way less exhausting than other home-make options such as hair straighteners.

Q: What are the key factors of a heat press?
A: Only three variables determine the quality of your end produced: heat (temperature), pressure, and time.

Q: What is the suggested temperature for heat pressing?
A: Temperature is the key to making high-quality end material. A good rule of thumb to remember is:
Lower temperature 180°F-210°F = 82°C-99°C more flavorless yield, end material is more stable
Higher temperature 210°F-240°F = 99°C-116°C less flavor, more yield, end material is less stable

Q: What are the Steps to Make?
A:
1: Put your source material in a folded parchment paper or filter bag.
2: Place the parchment paper between the two heated plates and apply ample pressure.
3: Lowering the plates down and letting the raw materials heat up for 30-50 seconds without fully closing.
4: Slowly increase the pressure till fully closes up. Don't max the pressure too quickly since it may cause a blowout.
5: Wrap it up when done, don't let it sit on the heat plate too long.
6: When working with larger material, you may need to repeat the pressing process 2 times.
7: Use Mogobe Collect Station cooling plate carving tool to collect.
8: Store it properly in a low-temperature environment.
Share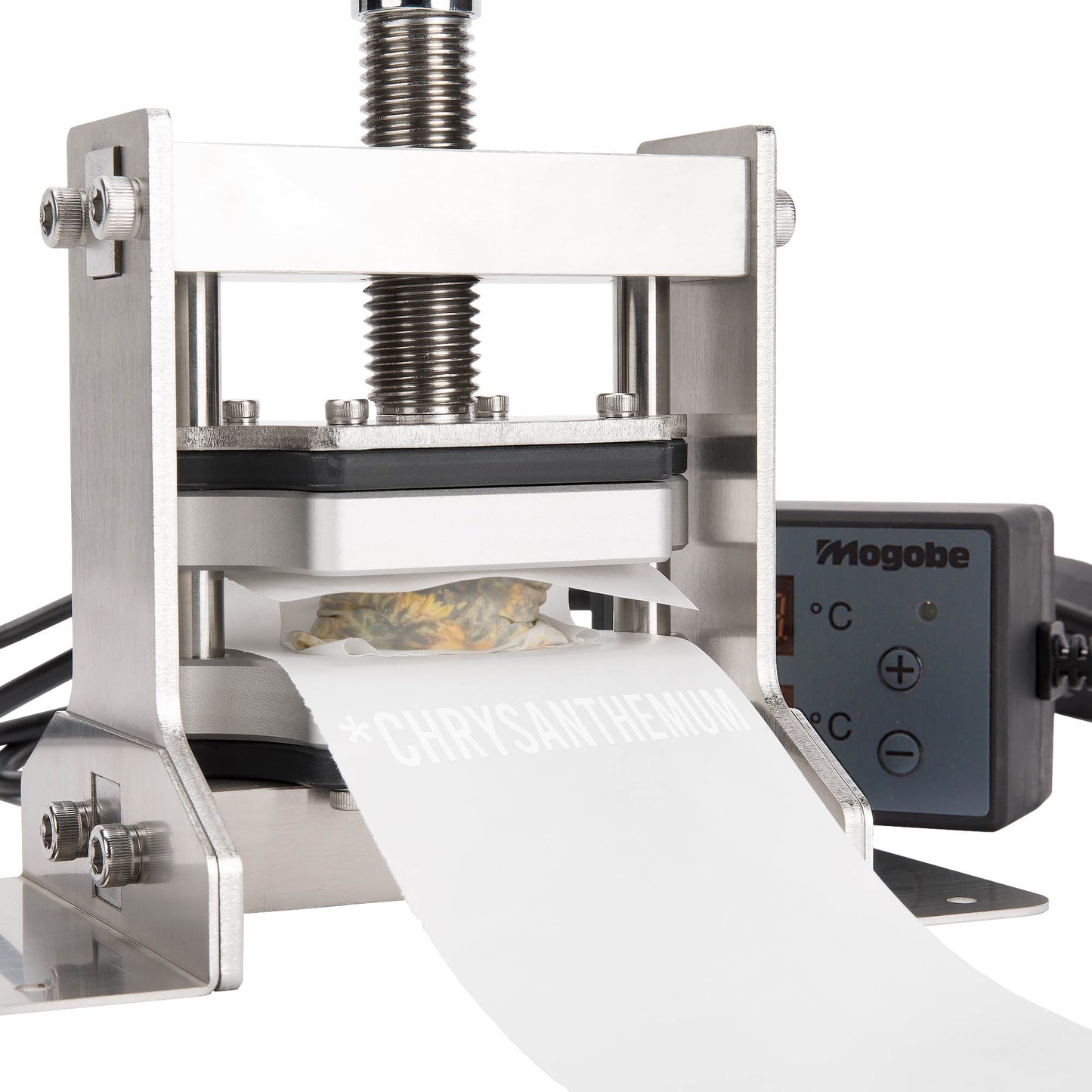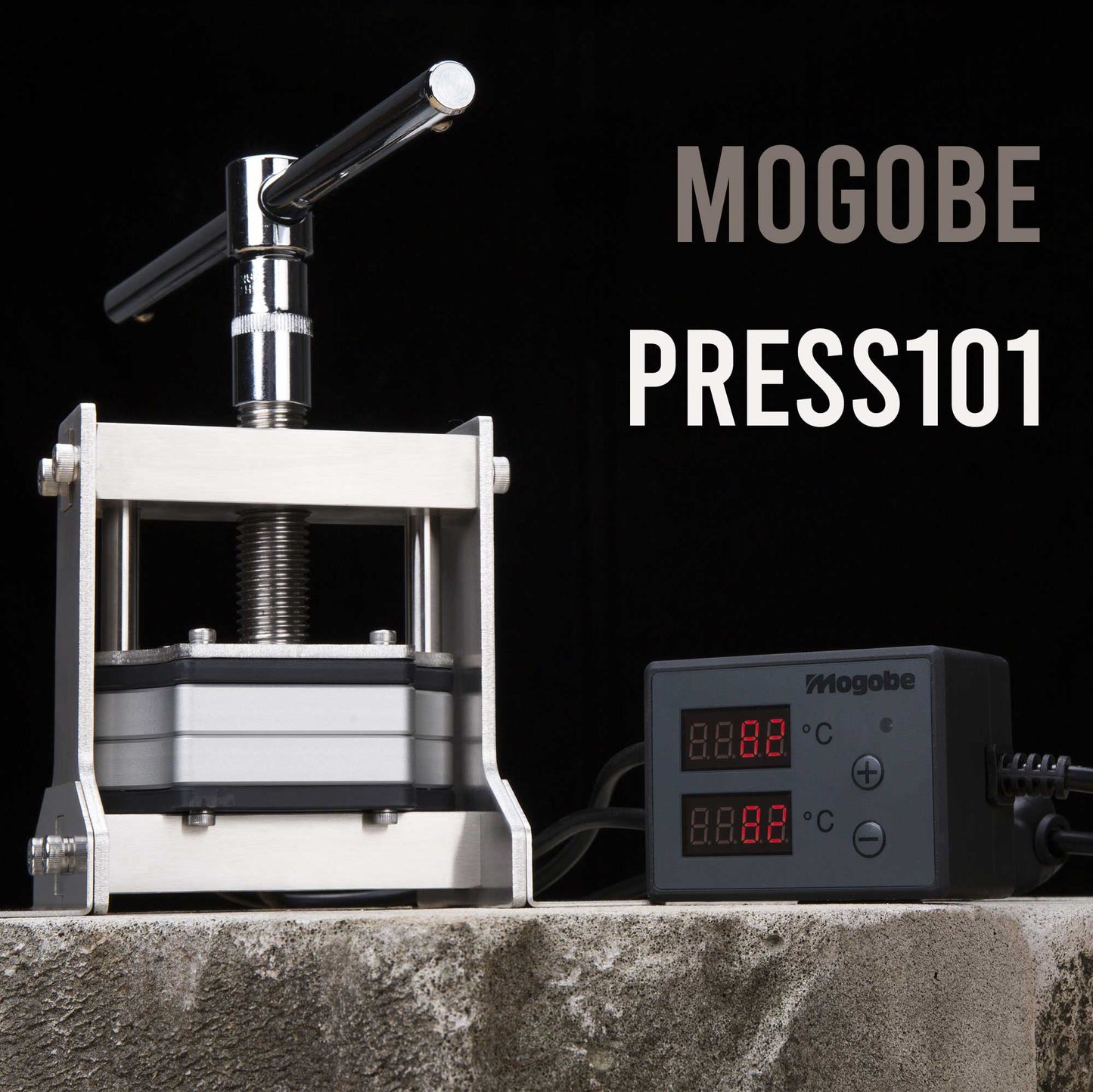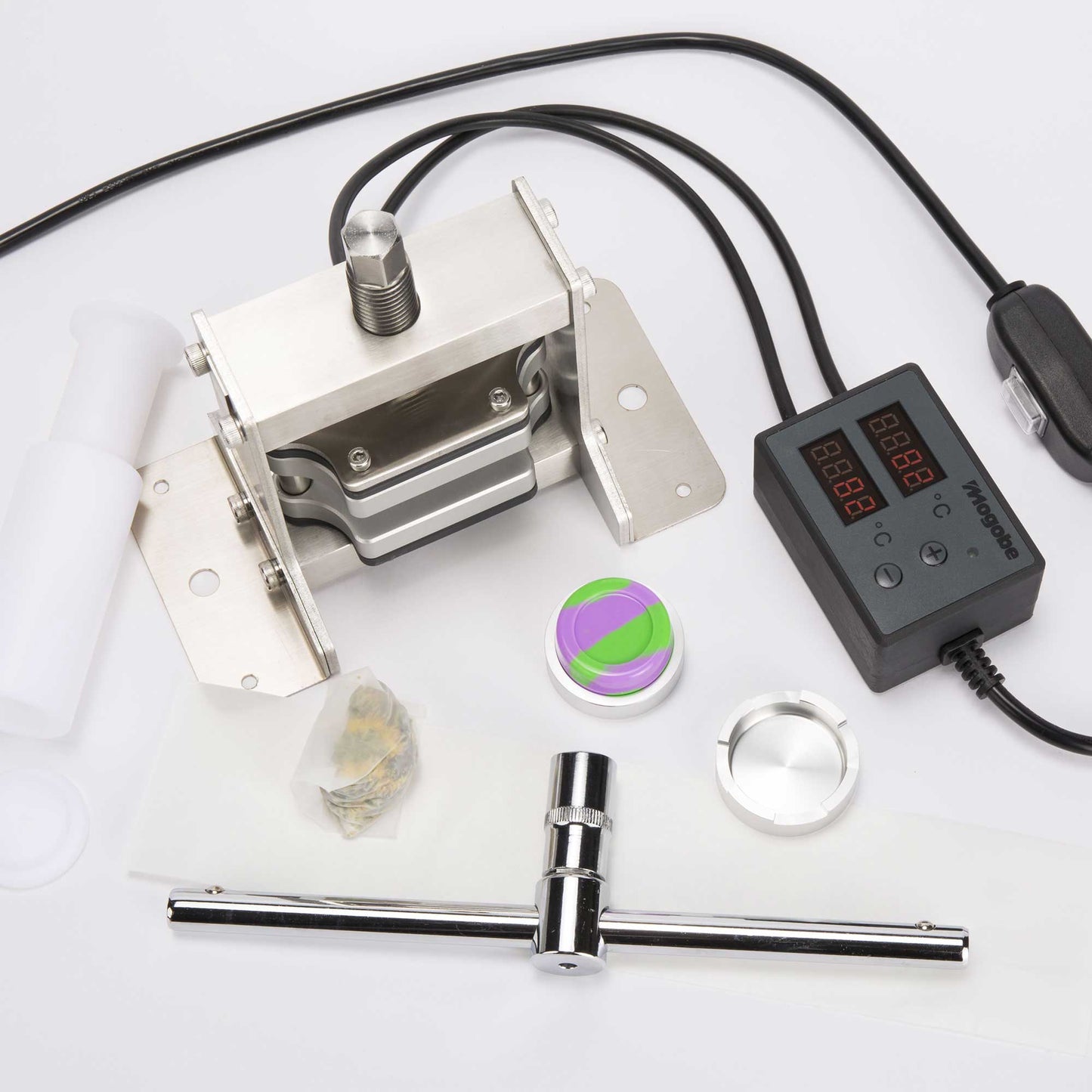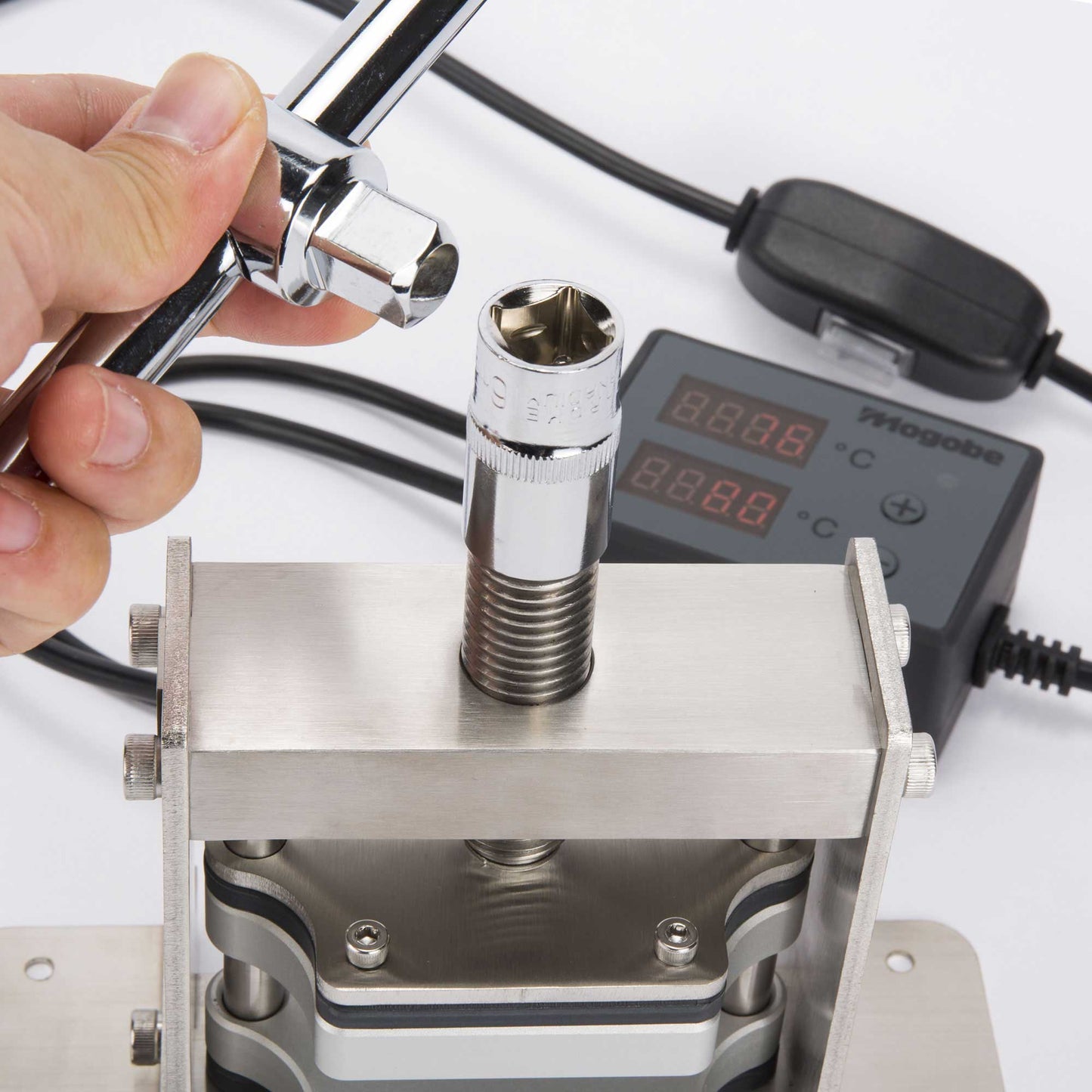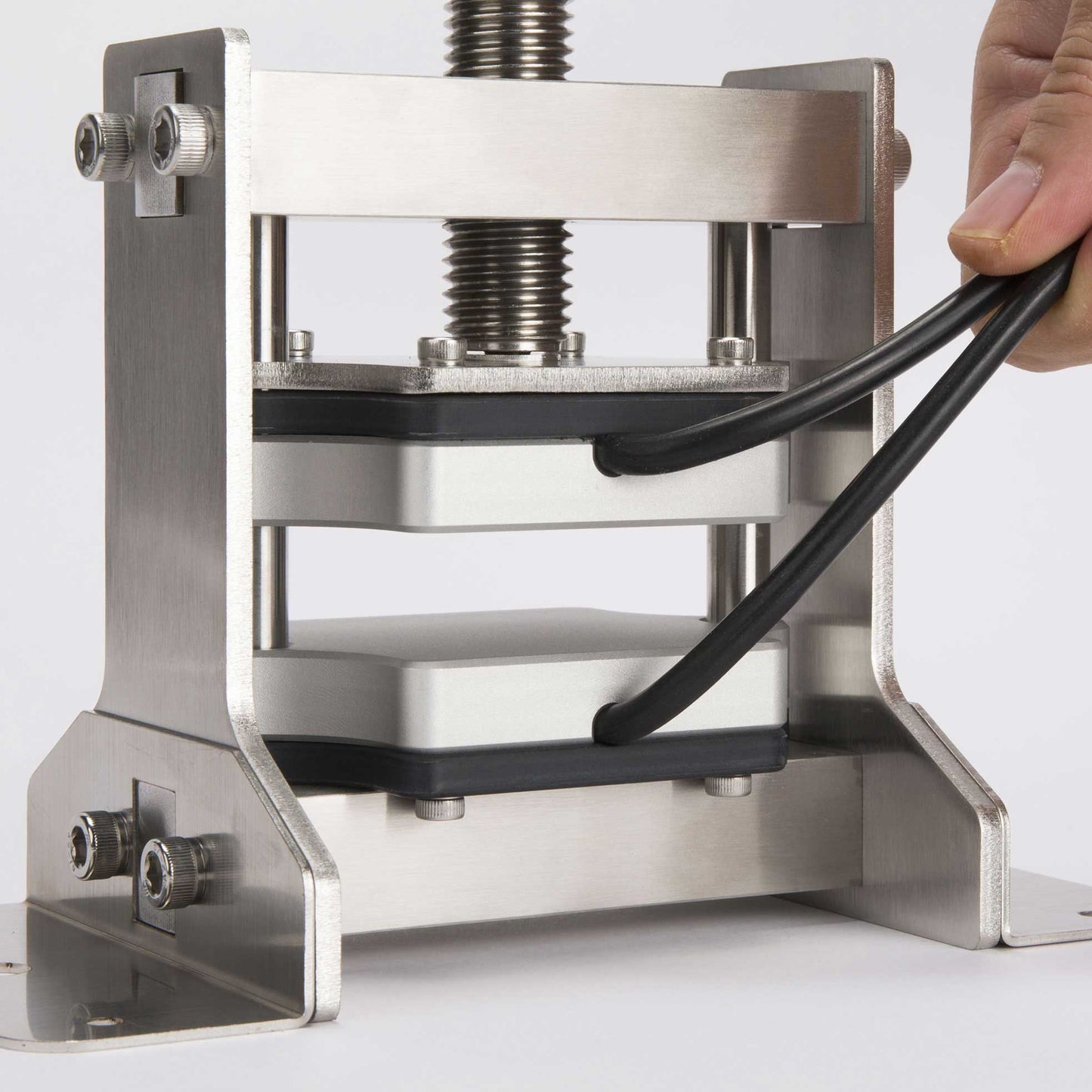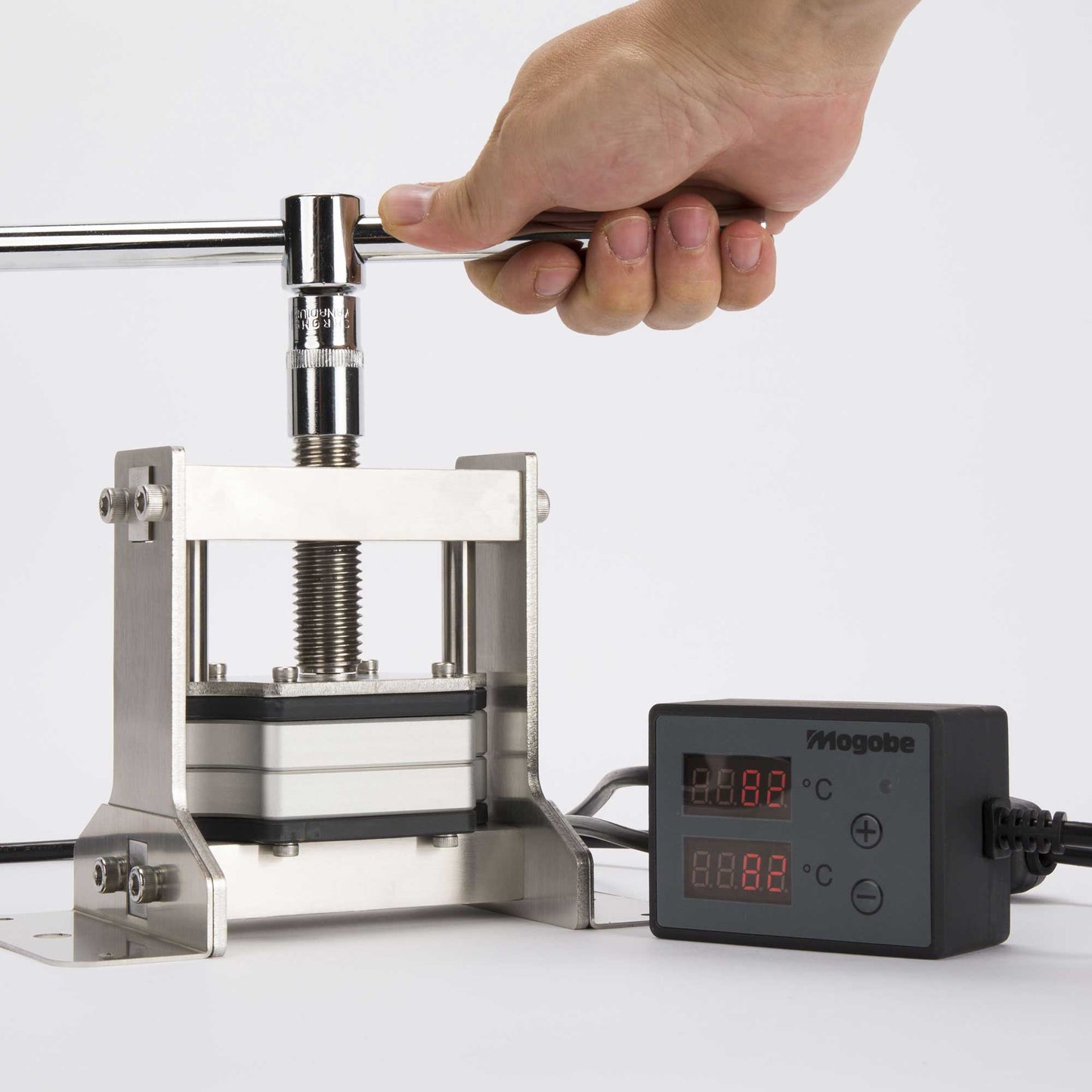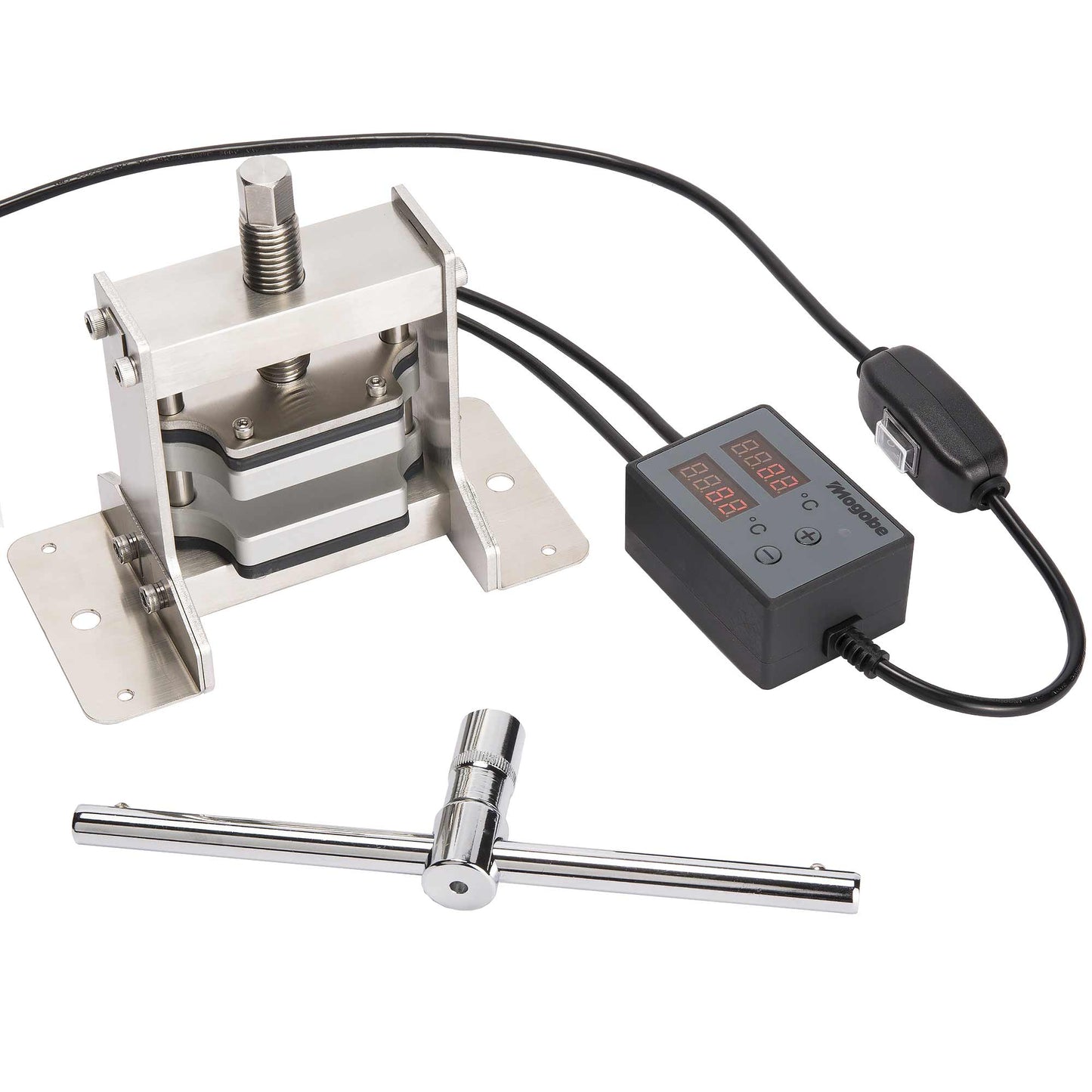 For the price she works like a charm.
Great beginner press
this press is awesome for the price and is just what I was looking for. Got it last night and made some rosin this morning. Only thing is it takes a min to heat up but that's not a major thing. Over all Great press for the price. Also mogobes customer service was phenomenal when my package was lost, they sent another and a prepress with it!